Personal Alarms
Personal alarms and security systems (telecare) are devices that call for help if you, or someone you know, falls or has a problem at home.
They range from basic alarms to intercom systems that allow family members to see who's knocking at your door.
For example, they can be triggered if:
you fall over or out of bed
you have a fit
you wander off or get lost
the room is too hot or too cold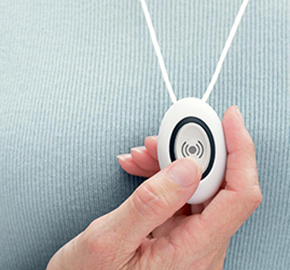 A personal alarm gives users the freedom to live independently in their own home. With the touch of a button worn around the wrist or neck, the user can call the 24-hour Emergency Resolution Centre for help should they have an accident when alone.
For more details including prices please visit Age UK/Personal Alarms
Telecare
There's technology available that could help you live independently and stay in control of your health and wellbeing. It's often called telecare or telehealth.
People Matter IW – Independent Living Centre
People Matter IW operate an Independent Living Centre (ILC) located in Newport, it helps people to remain independent in their own homes for as long as possible by providing information and advice and the opportunity to 'try before you buy' across a wide range of aids and equipment. This could be using Tele Health or Telecare. The ILC can demo Telecare and personal alarms. The ILC runs clinics for low level assessment by an Independent Living Skills Assessor and provides access to an NRS OT for higher level assessment of need, all hour long appointments are provided for free. Please ring the Centre or NRS for an appointment.
Updated 25/08/2021