**LATEST**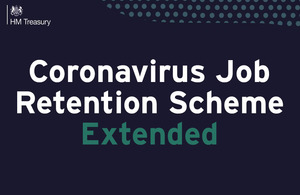 Furlough Scheme Extended and Further Economic Support announced:
Your employer might be able to use the government Coronavirus Job Retention scheme to pay you while you're not working. This is known as being a 'furloughed worker'.
About The Furlough Scheme (Extended)
Your employer might furlough you if they can't pay you or if there's no work – for example, if your place of work is closed.
You can also ask to be furloughed. You might want to do this if you:
are 'extremely vulnerable' and following government guidance to lower your risk of getting coronavirus – known as 'shielding'
live with someone who is 'extremely vulnerable'
are looking after your children while their school is closed
are pregnant or have a health condition and you're worried about coronavirus
If your employer applies to the scheme, you'll be paid 80% of your normal pay up to a maximum of £2,500 a month. This will continue until the end of October, unless you return to work before then.
Check if you can be furloughed:
Your employer will only be able to use the scheme to pay you if either:
you've already been furloughed before 11 June 2020
you're returning from maternity leave, adoption leave, paternity leave, shared parental leave or parental bereavement leave
If you're returning from one of these types of leave, your employer must also have used the scheme to furlough other employees.
You can be furloughed full-time or part-time. For example, you could work 3 days a week and be furloughed for the other 2 days.
If you're working from home you should get your normal pay from your employer. For more information visit citizensadvice.org.uk/work/coronavirus-being-furloughed-if-you-cant-work
The timetable for changes to the scheme is set out here
For more advice please contact Citizens Advice IOW Tax Team:
HMRC has put arrangements in place to help businesses and self employed people affected by Coronavirus ( covid -19) and has set up helplines. Please contact us for advice on the support available.
For more information or to book an appointment, please call
01983 823898 ext: 2836
or email us at
[email protected]
Updated 04/03/2021