Understanding your qualifications grades this summer: updated 20 August 2020: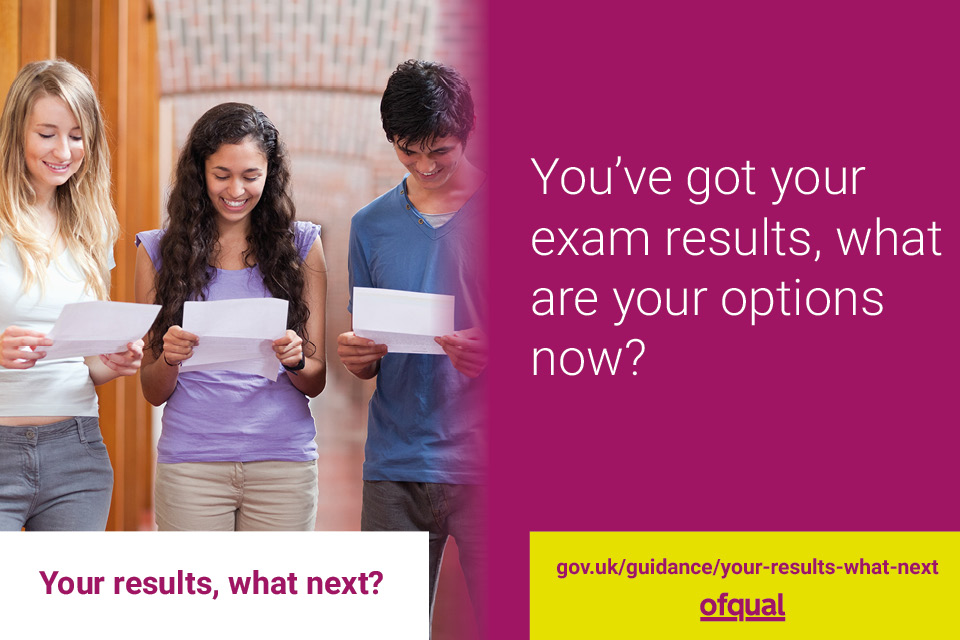 Exams and assessments were cancelled this year due to coronavirus (COVID-19) but most students will still receive grades in time to progress to further study or employment.
On 17 August 2020 we announced that students would be awarded either their centre assessment grade or the moderated grade, whichever is higher for GCSE, AS, A level, Extended Project Qualification (EPQ) and Advanced Extension Award (AEA) this summer.
We understand this has been a distressing time for students. The pandemic has created circumstances no one could have ever imagined or wished for. We have taken this decision to remove as much stress and uncertainty for young people as possible – and to free up heads and teachers to work towards the important task of getting all schools open in two weeks.
Student guide to results
See our student guide and the summer 2020 qualification explainer tool for more information.
If your results are not what you wanted
Take a look at our student guide to find out more about autumn exams, making an appeal, and what to do if you have concerns about bias or discrimination.
Further information
We have also published a guide for schools, colleges, students, parents and carers to answer the common questions we have been receiving.
Support phonelines
Exam Results Helpline
Telephone 0800 100 900
nationalcareers.service.gov.uk
The Exam Results Helpline can provide information on appeals, complaints, or what your next steps may be once you've received your results.